Church activities and Services
There are services in the church on Sunday and sometimes during the week particularly at festival times. Our vicar is responsible for both St James and All Saints Kempston. The All Age service on the first Sunday and the Morning service on the third Sunday are led by trained members of the congregation. Our times of worship are attended by people of all ages of a firm faith or in some cases by people who are thinking about or looking for a faith. Our worship is joyful, reflective and a time to come before God in peace. Please come and join us, we would love to get to know you. The service times are: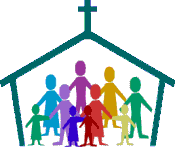 Sundays 10:00am

First Sunday: All age family friendly service
Second Sunday: Holy communion
Third Sunday: Morning service (no communion)
Fourth Sunday: Holy communion
Fifth Sunday: Service of Wholeness and Healing
Evening services
Second Sunday : Evening prayer at 6.00pm
Fifth Sunday: Sung Evensong
Seasonal occasions
At St James's our worship revolves around the Christian Year. Its seasons and celebrations provide a rhythm for our lives as we are drawn into the mysteries of Christ's birth, baptism, temptation, ministry, suffering, death and resurrection.
Serving the church internationally
I met with pastor Edward from Damascus when Peta and I were working briefly in Lebanon a couple of years ago. He together with his family is bravely continuing to live, provide help and sustenance to local Christians in Syria as well as proclaiming the love and saving power of Jesus by word and dead. He is passionate about the fact that Christians should stay in Syria even under the terrible conditions there to provide a future and a Christian witness after the war ends. Here is an account of his work and that of Pastor Samuel and relief worker Fathi in Aleppo, a town close to our heart as it was the home of Peta's grandmother's family. They work in partnership with Open Doors an organisation we support and have worked with:
****
An estimated 700,000 Christians have left Syria, but some pastors and church workers have made the decision to stay in the country torn apart by a civil war and the savage murders and kidnappings carried out by Islamic State (IS) extremists. Life is dangerous for Christians with daily shootings, regular bomb explosions and snipers in the streets. What makes Pastor Samuel* and relief worker Fathi* from Aleppo and Pastor Edward from Damascus stay?
Before the war began, cities such as Aleppo, Damascus and Homs were home to large Christian communities. Many of the Christians who are still in Aleppo are there for two main reasons: 1) they have no money to leave the city, or 2) they feel called to stay to help the remaining people or their congregations. One of them is Pastor Samuel, a pastor of a Protestant church with 250 members attending every Sunday. His wife and children have left the country; for them it was impossible to live under the constant threat of violence. The family endured great sacrifice. They have been separated from each other for a long time.
"Despite everything that has happened, we are all trying to do our best to serve the people who remain and provide God's hope in a hopeless situation," says Pastor Samuel. He sees many people coming to his church, mainly people who cannot go to their own churches because of the fighting. "In many situations the only thing we can do is pray. Psalm 91 comforts me and gives me strength."
Fathi is one of the Syrian Christians who plays a key role in helping refugees through local churches supported by Open Doors.
"No, I never thought of leaving," he said to an Open Doors worker. "Every day I see how we can help people deal with reality. Of course, on the other side, I think of my family. I am afraid for their lives, but not for my own. Over the last couple of years the Lord had protected me when I was stopped at checkpoints and when I went through certain areas of the city and country. God protected me.
"That keeps me going. I see how we can make a difference through the work we are doing. When bullets hit left and right of you, when buildings crash, and when you fear for your life, the bigger picture helps us to continue. We need to go on. I am happy to see it is a joint effort of different churches and denominations. It is not about me."
Pastor Edward stays with his wife Ranaa in the Syrian capital of Damascus.
"We don't want to leave," he shares. "We are feeling even more responsible now. To be honest, we're not really concerned about our own safety. We thank God who is helping us day by day. He is giving us a peace that surpasses understanding."
All of the people leaving have left a large hole in the churches.
"Of course we feel it when people leave," says Pastor Edward. "It depresses us to see people depart. Though many have left, the church is still full. Many new people are coming to church. That is very encouraging. We see the hand of God at work."
The three are thankful for the Christians around the world who pray for Syria.
"We thank God for all those who pray for us and who support us," expresses Pastor Samuel. "The Lord is watching us. He is our fortress, our strength and refuge. He will protect us."
Syria is ranked #4 on Open Doors' 2015 World Watch List (www.worldwatchlist.us) of the 50 worst persecutors of Christians.
Open Doors President/CEO David Curry said in a phone interview recently that refugees in northern Iraq and Syria are facing "huge food shortages," with close to 300,000 Christians having limited means by which to pay for food. With millions of people displaced across the region, Open Doors estimates that $20 million will be needed to provide food for the refugees in the next 18 months. Curry said that one of his biggest concerns is that Christians "will be the last among the refugees to receive vitally needed help," and called on Christians around the world to partner with Open Doors in order to remind those who are suffering that they are not forgotten.
Help feed an entire family in Syria and Iraq for a month for just $50 contact Edwin Martin on edandpete@hotmail.com.
Asylum Seekers and why they are seeking asylum
As there has been a lot of talk during the Brexit campaign and afterwards about Asylum seekers, those feeling from war or oppression, I thought that I would do a bit of research on this subject. What I found was:
It is extremely difficult to gain entry to the UK as an asylum seeker, the majority get their application turned down
In 2013 out of a total population of 63.7 million, asylum seekers and refugees accounted for 0.24% of the population
The number of positive asylum decisions in 2014 were, Germany 41,000, Sweden 31,000, Italy 21,000 France 15,000, the Netherlands 14,000, and the UK 10,000
Britain comes 32nd in the world for welcoming asylum seekers
As a whole immigrants pay more money into the UK tax system per head than their British equivalents according to research by the Institute for Public Policy Research
30,000 jobs have been created just in Leicester by the Ugandan Asian refugees since 1972
1,200 medically qualified medical refugees are on the BMA's database. It costs £25,000 to enable refugee doctors to reach a professional level that makes it possible for them to practice in the UK. To train a new British doctor costs £250,000. We are very short of doctors
When they first arrive and during the many months or years before they get permission to work Asylum seekers are entitled to payment from the national Asylum Seekers Support Service of £36.62 per head. This is 70% of what a person on income support gets and is below the poverty line
9)The right to asylum is enshrined in article 14 of the Universal Declaration of Human Rights passed by the United Nations in 1946. All the nations of the UN voted in favour of this declaration apart from the communist bloc, Saudi Arabia and South Africa who abstained and none voted against it. The right to asylum in the UK dates back to AD 600 and King Ethelberht of Kent
Illuminating!
From desperation to catastrophe
A case in point
In Yemen's war of attrition, the Saudi-backed exiled government has now decided that the central bank is an easier target than the capital, shielded from its troops by 60 kilometres (40 miles) of daunting mountains teeming with fighters. A decree this month to cut the bank off from the outside world is aimed at using economic pressure to vanquish the Houthi fighters of the Zaydi branch of Shi'ite Islam, who have ruled the capital and most of northern Yemen for nearly two years.
It means the Houthis will struggle to pay state employees, including teachers, doctors and the soldiers from an army that mostly fights on their side in the civil war. But it also means that millions of people in territory controlled by both sides will become poorer, and a country that imports 90 percent of its food may have no way to feed itself.
Diplomats, economic experts and employees of the central bank itself say the move risks destroying the lifeline for millions of impoverished Yemenis and pushing the Arabian Peninsula's poorest country to the edge of starvation.
(This picture is shocking but Peta and have seen many people starving in our clinics and we feel that this is the responsibility of us all to help in situ or to give asylum)
LIFELINE
Yemen's central bank is one of the last state institutions to survive the rift that split the country when the Houthis took over the capital and forced President to flee. Despite meagre means, the bank has continued to provide lines of credit guaranteeing imports and to pay the salaries of state employees.
Sources in the exiled administration have said the president is looking to relocate the bank to the southern port city of Aden, which is under their control but the security situation in Aden, which has suffered repeated suicide bombings targeting senior officials, including the city governor and police chief, makes this city unsuitable for the bank.
A Middle East analyst says that action against the central bank would cut "the only artery" holding the country together and lead to the fragmentation of the country
Poor and arid, Yemen imports more than 90 percent of its food, including most of its wheat and all its rice. Some 21 million of Yemen's 28 million people need some form of humanitarian aid and more than half the population suffers from malnutrition. Running short of cash, the bank was forced to shed its guarantees of vital staples like rice and sugar.
Muslimi, the analyst, said any measures against the central bank would be more dangerous than the decision to go to war itself. "The president in exile may think he will be strangling the Houthis, but he will be strangling Yemen."
Church policies
Data protection notice:

 please click on Privacy Notice-v2